Discover more from Quick Brown Fox
Essays, comics and fables on creativity, self-awareness, and playful productivity.
Over 2,000 subscribers
Hey friends,
Exciting news: I've just been accepted into the inaugural cohort of On Deck's Writer Fellowship! I've been plotting a major new project (more on that soon!), so it's the perfect time for me to join this program as I look to take my writing to the next level.
I'm excited to learn from so many folks in this cohort as well as On Deck's broader community. The energy, enthusiasm and progress from its startup program has been evident since day one. I expect their writer's program will be just as powerful. Psyched to be a part of it!
---
I was excited to be interviewed by PBS for their Rewire program — we talked about building a diverse set of skills, pursing a portfolio career, and much more. You can checkout the published article, How to Thrive in a Gig Economy.
For even more thoughts from me on making the leap to independence, check out this thread on quitting your corporate job.
---
I don't usually write poems, but this one came to me late last night… I couldn't sleep, so I did some journaling in my office, and a lot of feelings showed up. I took a class earlier on 'writing without thinking', and tried to apply the lessons and channel them into my writing. I did my best to get out of my own way and let the writing write itself.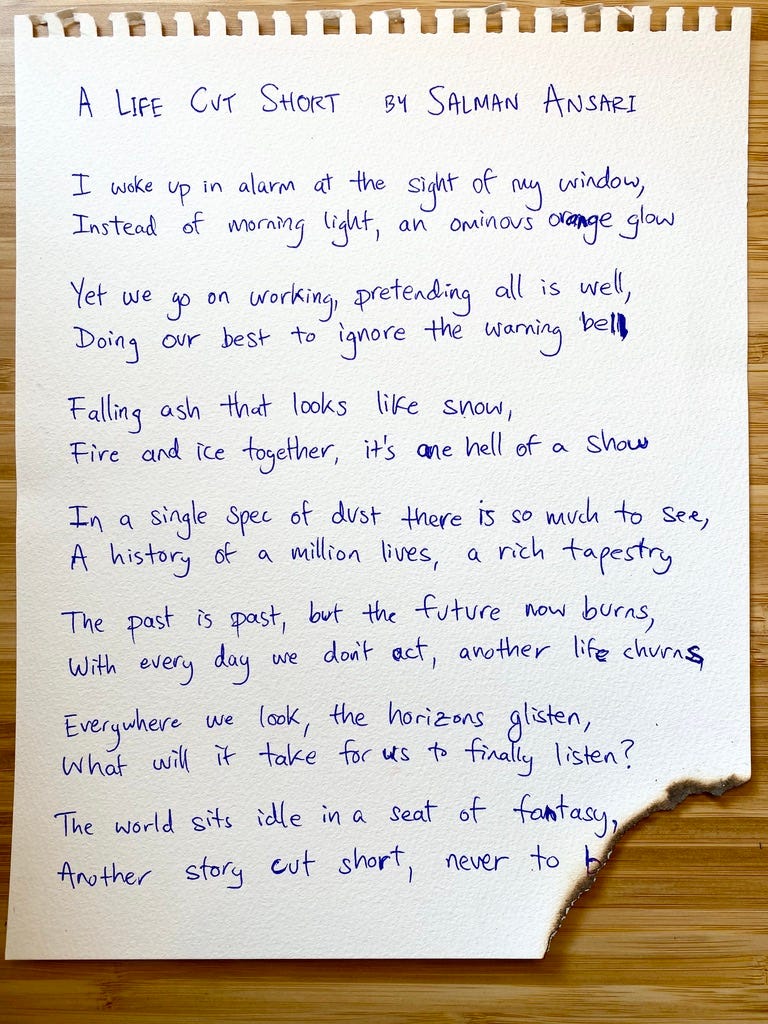 You can also read the text version on my blog.
---
I just published a new video talking through the latest changes to my site, as part of my series on building my site in public.
This latest episode is all about 🌱 digital gardens (if you need a quick refresher on what digital gardens are, check out this note). I talk about why I built one, the struggles I've had maintaining one, and new use cases that re-motivated me to start contributing again. Lastly, I talk about how and why I integrated it into my main website (TL;DR: more seamless UX and simpler Markdown publishing workflow).
You can now find all my notes here: salman.io/notes.
One of the key things I talk about in the video is how I'm embracing a new process to take sections of my newsletter and turn them into notes. A peer shared with me a framework called PESOS (Publish Everywhere, Syndicate to your Site), "where publishing flow starts with posting to 3rd party services, then using some infrastructure (e.g. feeds, pingbacks, webhooks) to create an archive copy under your domain." I like this approach to experiment with ideas as I write them on my Twitter feed and newsletter, then incorporate them into my site once I've iterated on them through feedback. Once they're notes, I share them and get even more feedback, and the cycle continues.
The opposite approach (publish to your site first, then syndicate elsewhere) is more common, but the best part is definitely its acronym: POSSE. I can't wait to talk about this in casual conversation…
Them: "So, how do you market your site?"
Me: "Oh I heavily rely on PESOS."

Them: "…What?"
Me: "Yeah I'm definitely more of a PESOS over POSSE type of guy, you know?"

Them: "I… Uh… Are you saying you prefer to bribe people with pesos instead of getting them beat up using a posse?"
Me: "Yes. Exactly."
Good times ahead.
---
I was interviewed by Paul LeCrone on his podcast, and we had an amazing conversation that lasted more than two hours! We covered the challenges of writing, fostering creativity, resisting insecurity work, finding our why, and much more. You can watch a quick trailer or check out the full topic list in the show notes for this episode, The Lost Art of Having Fun.
Listen on Spotify, Apple Podcasts, or YouTube.
---
Quick Links
---
Until next time,
—Salman
🌎 salman.io | 🐦 @daretorant