Discover more from Quick Brown Fox
Essays, comics and fables on creativity, self-awareness, and playful productivity.
Over 2,000 subscribers
🦊 Quick Brown Fox #25
Hey friends,
Welcome to the Silver Jubilee edition of Quick Brown Fox! 🎉
This week: Reminiscing about visiting Tokyo, a framework for prediction and reflection, being more proactive about taking breaks, a new podcast interview, and last but not least — music recommendations!
---
As I continue to shelter-in-place, I've really missed traveling to new cities. I love the feeling of stepping out onto the streets of a new destination and exploring every avenue. I've been reminiscing about a trip to Tokyo I took last September. I had wanted to visit Tokyo for many years, and was so excited when I finally got the chance. I instantly fell in love with the city, and wrote a blog post about Tokyo on the flight home. I wanted to capture the electrifying energy I was feeling before it escaped me.
Reading the post a year later evokes a lot of different feelings. Firstly, I notice that the writing is long-winded. I refocus that into a positive: I believe my writing has improved since then. If I'm writing for the long haul, I need to be able to look at my past work and see the positives in the progress.
As I continue reading, I recall so many fond memories from my time in Tokyo — bullet trains, sushi, coffee shops, neighborhoods, hidden alleys…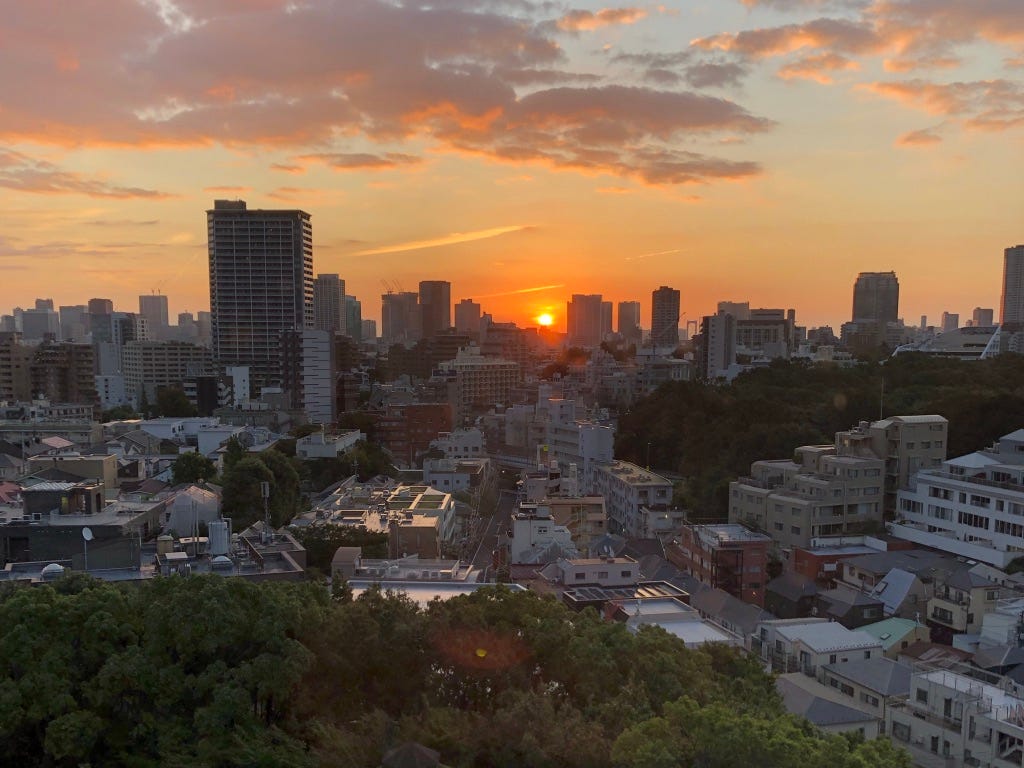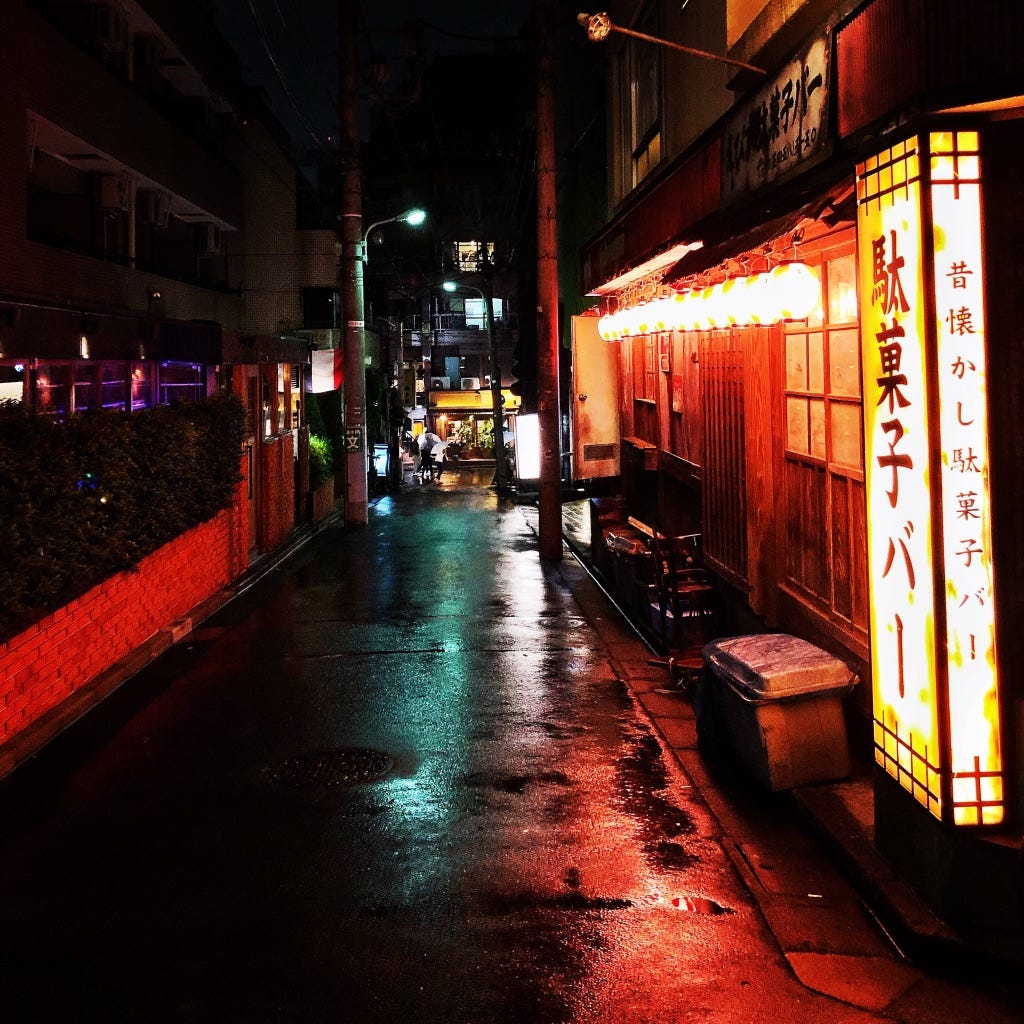 I even remember the daydreams I was having while I wrote it. I remember thinking I would be back in Tokyo very soon. I was looking forward to so many more adventures wandering its streets. Part of the excitement I had around going independent (and working remotely) was the potential to travel a lot more, and work out of different cities for a few weeks. Once the pandemic hit, that dream evaporated. Still, I'm quite happy with the way my journey of independence has gone so far, and I'm excited to see where it takes me.
Some day, Tokyo, I'll be back…
---
Prediction as Reflection
I ran into this great post by Elizabeth on using predictions as a substitute for reviews. Instead of doing weekly reviews, Elizabeth suggests using a tool called PredictionBook to make predictions on how you think certain events will play out, and then reflecting on them once they're complete.
In a nutshell, when I find myself making a choice about how to spend time or money that's dependent on some expectation, I write out the expectation as a prediction (with % likelihood) in PredictionBook, which then automatically prompts me to evaluate the prediction at a date I set. This has so many benefits I'm struggling to figure out where to start. If I had to sum them up in a phrase, it would be "more contact with reality".
I resonated most with the idea of using predictions as a tool for reflection (rather than specifically trying to improve prediction accuracy). The act of trying to predict how a commitment will play out gives you an opportunity to re-evaluate it. I had an interesting discussion with Elizabeth on Twitter about how best to utilize this framework. For me, the most compelling use case is to try and focus on energy for the predictions. In other words, asking myself: Will this call/project/commitment be energizing or draining? Each prediction could yield a few benefits:
Re-evaluation: By spending a few minutes to think about how something might play out, you face its "reality". In some case, you already know something isn't worth doing, but you do committed anyway. Can you re-evaluate this? If it only takes a few minutes to decide to change your commitment (which could be for an hour or more), that is time well spent.

Self-Awareness: Knowing which activities affect you at different times and with different people is invaluable knowledge. You can start to develop a stronger sense of how your behavior correlates to the activities in your life. Becoming more self-aware is the first step to making better decisions for yourself.

Self-Reliance: I think a lot of people second-guess themselves too much. They know something isn't likely to be a net positive for them, but they don't really trust themselves enough to decline a seemingly small commitment. So they just eat the cost. Instead, if they started predicting and reflecting on each commitment, they can see how often their instincts are right. If it's the majority of the time, the data can make a compelling case to start trusting themselves more.
The other great thing about Elizabeth's post is that she includes very specific instructions of how to get set up (jump to the "Instructions" section). I just set my account up and made some predictions. I'm curious to see how this plays out! In a self-referential twist, I entered a prediction on whether or not I'll get value from usage of PredictonBook itself. I set it to remind me in about 3 weeks — I'll let you know how it goes in a future edition!
---
Taking Breaks
I tried to be a bit more proactive about taking breaks this week. I played some more Final Fantasy VII: Remake and streamed it on Twitch, which has been a really fun way to enhance the experience for me. I'm excited to do more streams (also with other games)! I usually announce them on Twitter, but you can also follow me on Twitch to get notified whenever I'm streaming.
I also made my way to the beach for some time in the sun with a good book. I read Song of Achilles while enjoying the calming waves. It was my second time reading it, and enjoyed it even more this time. I really love Madeline Miller's writing and can't wait till she releases her next book!
Here's a quick snap where I caught some birds in a flying V: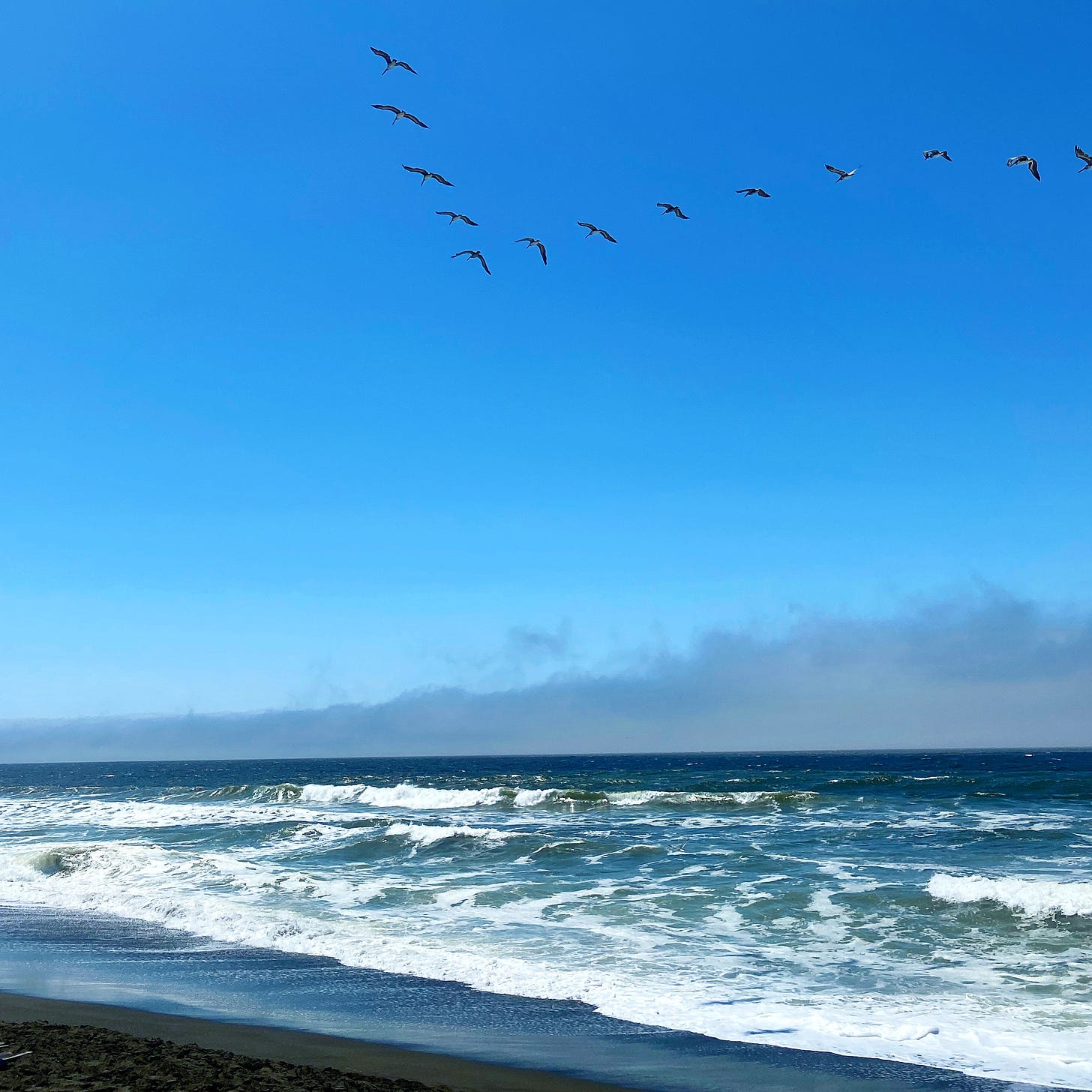 ---
Quick Links
Portfolio Career Podcast: I was interviewed by David Nebinski on his podcast, and we had a great convo around navigating careers, pursuing creativity and more. Pretty neat to be on a show that has interviewed the likes of Seth Godin!
The rest of this week's links are all music recommendations! I've DJ'd a bunch in the past and always enjoy the process of music selection and curation. I'm excited to start sharing a bit of music every so often!
Given this is the first time I'm sharing music in this newsletter, I'm finding it really difficult to share only a few songs! I feel tempted to share the hundreds of tracks, albums, and playlists that I've loved over the years. Music selection is an expression of personality, and it feels like I'm giving you an incomplete picture. Alas, I have to start somewhere…
Parting Question: What's on repeat for you this week?
---
Until next time,
—Salman
🌎 salman.io | 🐦 @daretorant