Discover more from Quick Brown Fox
Essays, comics and fables on creativity, self-awareness, and playful productivity.
Over 2,000 subscribers
Hey friends,
I hope you're doing well and staying safe. A warm welcome to all the new subscribers who just joined! My name is Salman Ansari, and this is my weekly newsletter. I share my latest essays, illustrations and other creations along with lessons I learn along the way. For more background, check out this thread on my approach to this newsletter. In case you're new to my work (or if you missed them), here are a few of my most popular blog posts:
You can find all my posts on my blog: salman.io
Thanks again for joining me in this journey! I'm excited to have you on board.
---
📚 Bookshelf
Let's talk about books! When shelter-in-place started, I found myself struggling to read at my usual pace. Thankfully, it's picked back up again, so I wanted to share a few of the authors I've been reading lately.
Madeline Miller
Last year, I read both of Miller's wonderful books, Circe and Song of Achilles. I absolutely love them! Miller's books are a modern take on Greek mythology, and as someone who grew up loving The Odyssey and The Iliad, I was all for it. But it's not just the subject of her books that I love — her writing is incredible.
Sometimes she delivers a sentence so powerful, I can't help but stare at it for several minutes. I would share an example, but the magic in what she does is how she weaves past and present into her stories. You'll just have to read her books to find out! I'm reading Circe again right now, and I look forward to reading in bed every night just to be transported back into Miller's fictional worlds.
Miller is one of the most talented writers alive, and I can't wait for her next book!
Elizabeth Gilbert
I've mentioned Gilbert's work in previous newsletters, including the video that inspired my essay Why Bother?. She's a huge inspiration for me.
I just finished reading her book Big Magic, and found it to be an incredible resource filled with invaluable guidance on creativity. I've taken a ton of notes from it and I expect I'll be returning to them constantly as I navigate my own journey.
I highly recommend Big Magic even if you aren't doing explicitly creative work — the book has so much to offer. I also recommend checking out her interviews with Chase Jarvis and Tim Ferris.
Pema Chödrön
As I struggled to deal with the pandemic and the uncertainty it brought, I looked to Pema's book Comfortable with Uncertainty for guidance. In it, she shares 108 different (short) teachings on how to embrace uncertainty. It's not something you have to read all at once — I have been making a practice of reading a few teachings every other day. I should note that this book contributed to the lessons I shared in my latest essay, Embracing Uncertainty.
On a recommendation from a friend, I also started reading another one of her books, When Things Fall Apart (seems like the perfect book for this period in time!). As I started to read it, I noticed she wrote the the book in Nova Scotia (Canada) back in 1996. As it turns out, before I moved to the Bay Area, I lived in Canada for over a decade. I mostly lived in the Toronto area, but also spent a year in a little town called Halifax in Nova Scotia!
It's a bit magical to learn that I was living near her as she wrote the book. Now, more two decades later, on the other side of the continent, I'm reading it.
Her words took a long journey to find me. I'm thankful they did.
---
🌲 I Met A Tree
This weekend I attended an all-day meditation retreat/workshop run by the San Francisco Zen Center. I attended this same retreat last year, but in person at their center in Green Gulch. Given the circumstances, this edition was conducted entirely online. I missed a lot of things about being at the center — the feeling of 'escape' when you drive out there, the birds, and the silent peacefulness that filled the air. Still, it was a refreshing experience that reminded me of the power of group meditation.
During one of the breaks, it was politely suggested that we take a mindful walk outside. The idea is to take each step slowly and intentionally. I started along one of my usual walking routes, and the next thing I knew I was almost back home. I had quickly slipped back into my habit of walking quickly and mindlessly. When you do the same walk every day, it's hard to break the habit! Just as I approached my house, I decided to at least try to be mindful in the final few minutes.
I slowed down, and tried to be mindful of each step. I looked to my left and a tall tree caught my eye. I stopped. I walk by this tree almost every day but never noticed it before. I walked up to the tree, and stretched my neck to look up at its peak. I noticed its mighty trunk, expansive branches, and countless leaves shaking in the wind.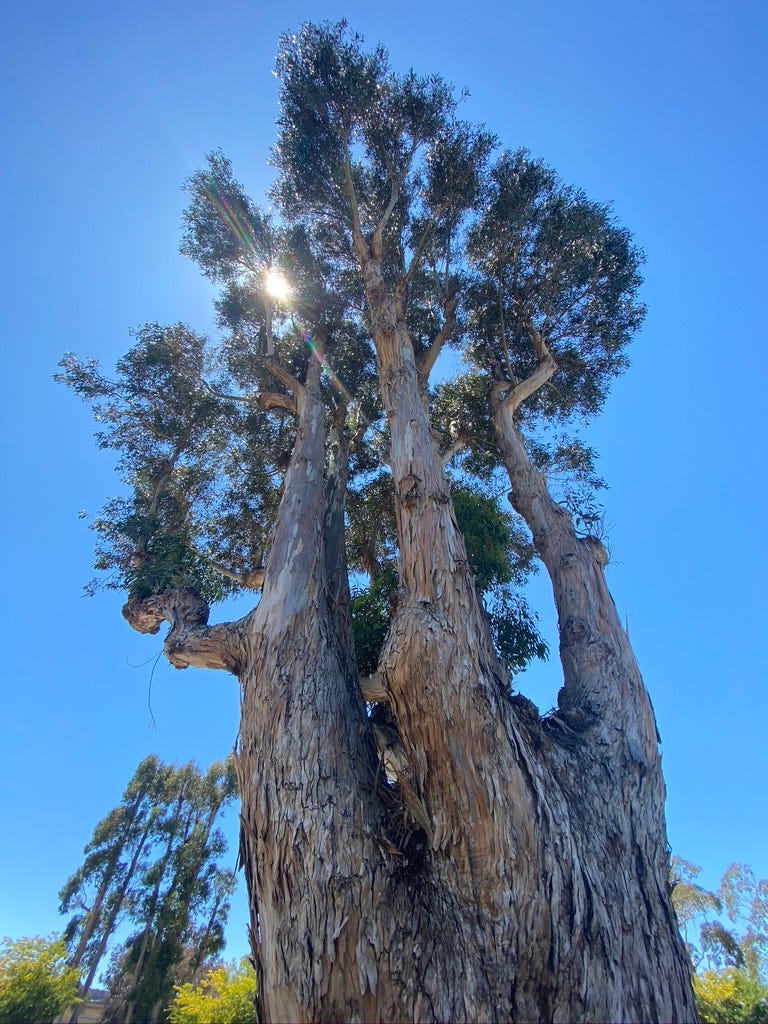 I wondered how old the tree was. It seemed old enough to have its share of stories to tell. I imagined how many cars had drove by while it idly stood. Through all the construction and demolition, politics and upheaval... the tree stood. It did its job, which was simply to be.
I touched the tree's bark. It wasn't soft and smooth — it felt rough. It felt real. Strangely, through this simple interaction, I felt like the tree had meaning to me now. It wasn't just any tree to me anymore. I decided to name the tree Phil. It seemed like a Phil.
Just then I noticed something on the tree that looked like almost like a cat collar. It showed a number: 615.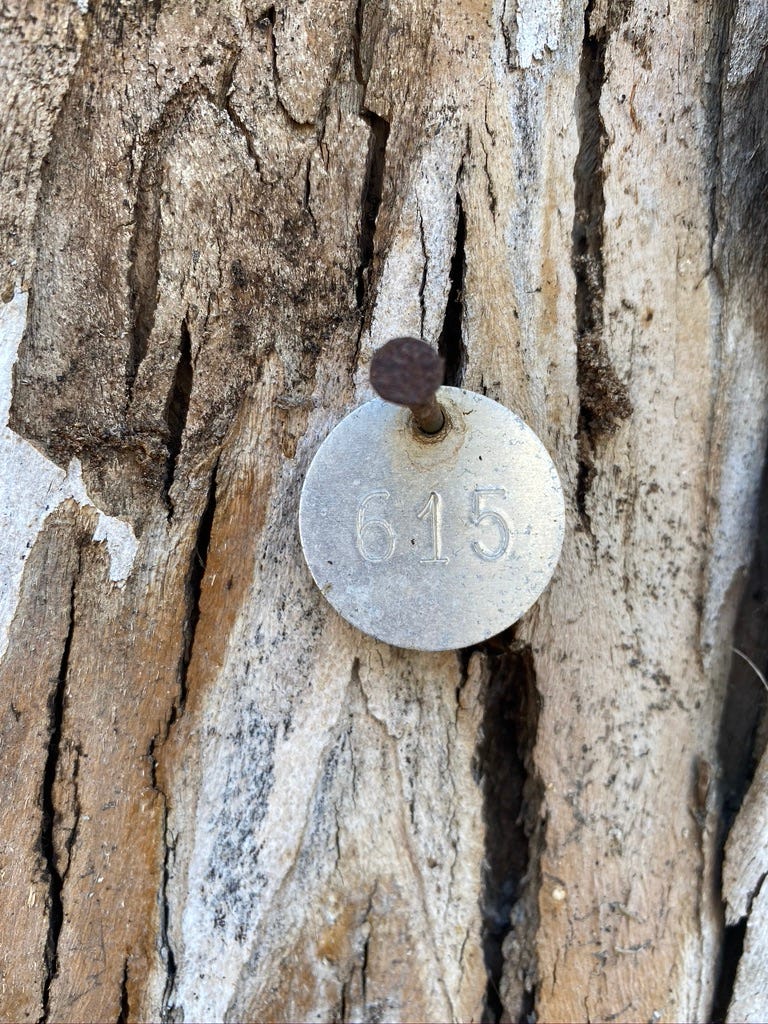 Looking at it pained me. I imagined the sting Phil felt as the nail went in. It didn't seem to matter to me that it was a tiny nail and a huge tree. The fact is that someone had hammered a nail into Phil, and I didn't like it. Still, I realized it was probably done for good reason — to track the tree and coordinate its care.
I wondered if Phil already had a name. I tried to ask him, but Phil didn't respond. So, until I hear from him, his name will be Phil. I'll be checking in on him during my daily walks, so I'll keep you posted.
If you ever run into Phil on the street, be sure to say hi. He's very friendly.
---
🔗 Quick Links
---
Until next time,