Discover more from Quick Brown Fox
Essays, comics and fables on creativity, self-awareness, and playful productivity.
Over 2,000 subscribers
🦊 Quick Brown Fox #14
Hey friends,
Firstly, a warm welcome to all the new subscribers! I've been blown away by the response to last week's essay — it received more engagement and positive feedback than anything I've ever written. It's a wonderful feeling to see my writing resonate. Thank you!
In this edition, I share a new essay with you on the power of feedback, a podcast interview, a few sketches and some quick links.
---
In this essay, I share the story of Walt Whitman and the life-changing letter he received from Ralph Waldo Emerson. With a single piece of feedback, Emerson sparked life into Whitman's creative soul.
But just as feedback can save us, it can break us. Ultimately, we must handle feedback with care and look inward for guidance.
---
I was interviewed by Abhinav Kejriwal for his podcast Half a Thought. It was a really fun conversation — we covered a lot of topics including the definition of success, finding creativity, the importance of writing, and much more. This interview will also give you some insight into a lot of open questions I'm grappling with right now.
If you prefer audio, you can also listen to the podcast.
---
The Playground
Two quick sketches and what I learned from drawing them: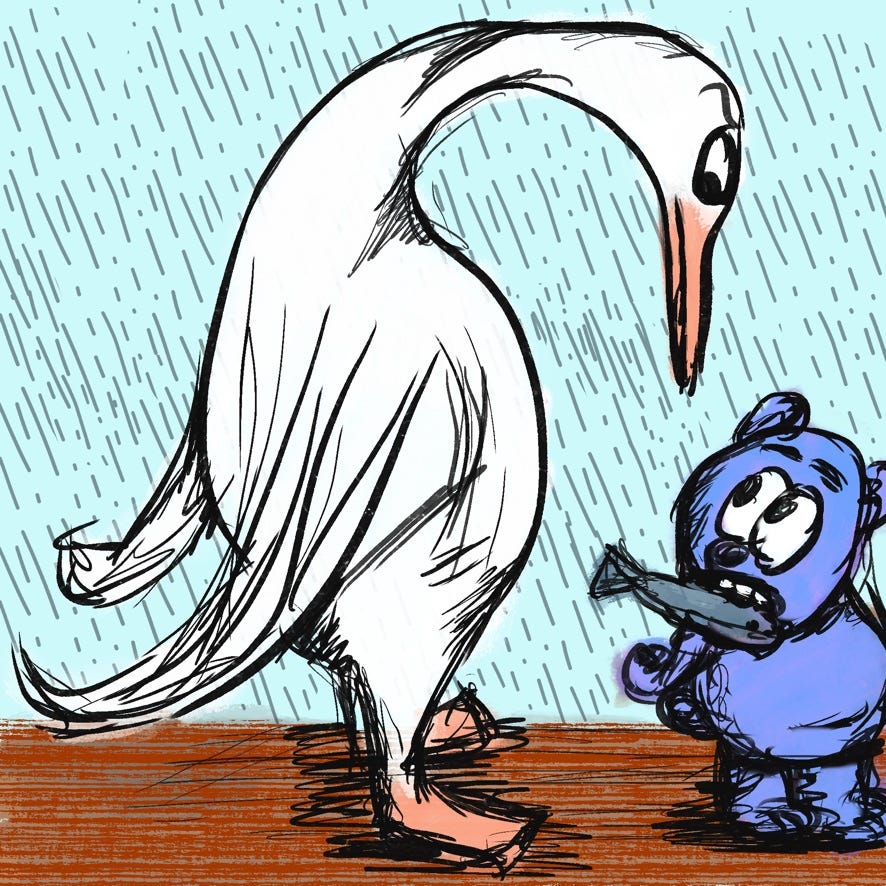 I didn't have a bird or a bear in mind. I just started drawing… and then there they were. I purposely kept this one rough; but even in the messiest drawings, what always stands out is when something isn't believable. The minute I finished it, I noticed a glaring problem. Do you see it?
Look at the fish. It's straight as an arrow, which makes it seem like it's made of stone (its gray color doesn't help either). If the bear is really gripping it with his teeth, the fish should be flopping down on either side of the bear's mouth. In the end, I decided to just leave it the way it is. This way, whenever I look back at it, I can remember the drawing lesson of the fish!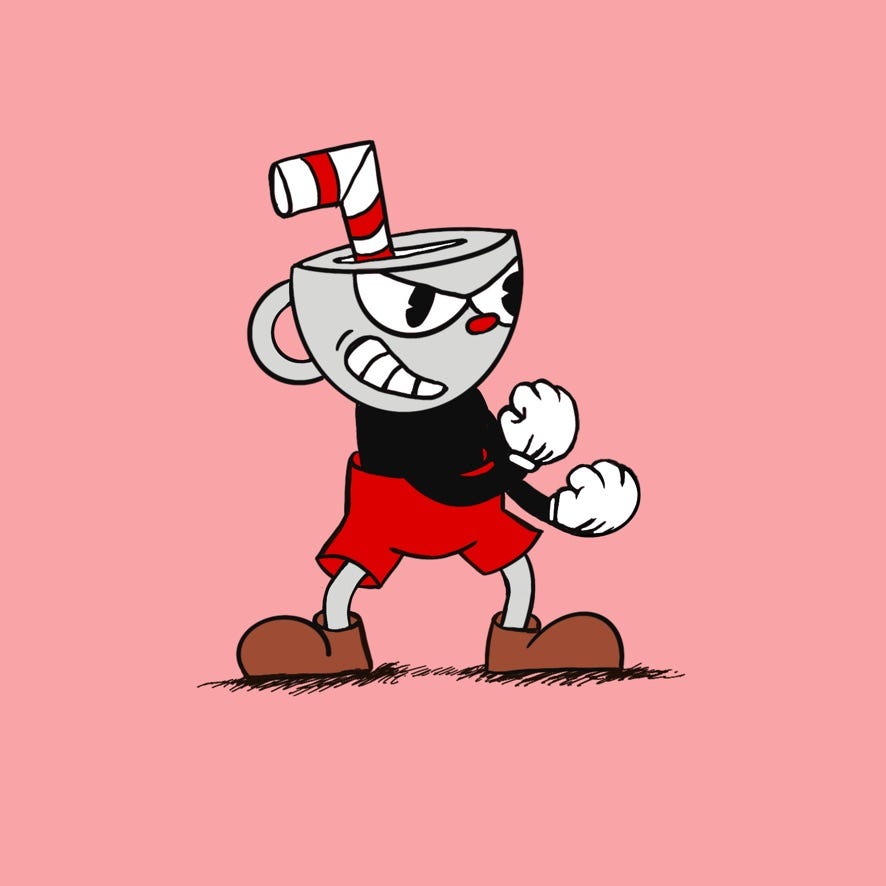 After spending some time animating with Looom, I wanted to try and do a quick character animation in Procreate. I love 1920s-style animation, and want to animate the Cuphead game's main character doing a little "battle-ready" movement.
As a first step, I needed to do some pencil sketches of his character in different poses to get a feel for him. But once I started drawing him, I was having so much fun I went ahead and did the full line-work and colors. 😅 I'm pretty happy with how it turned out! It's the first time I've drawn him where I feel like I captured his essence.
---
Quick Links
Wander: I've been noticing and appreciating trees more on my daily walks. In this video, Natascha McElhone reads a wonderful passage by Hermann Hesse on the beauty of trees. "Nothing is holier, nothing is more exemplary than a beautiful, strong tree. When a tree is cut down and reveals its naked death-wound to the sun, one can read its whole history in the luminous, inscribed disk of its trunk: in the rings of its years, its scars, all the struggle, all the suffering, all the sickness, all the happiness and prosperity stand truly written, the narrow years and the luxurious years, the attacks withstood, the storms endured."

Stems: A magical stop-motion animation about the art of puppet-making, with a powerful message about the preciousness of life.
---
That's all for this edition! Stay safe, and see you in the next one :)
—Salman